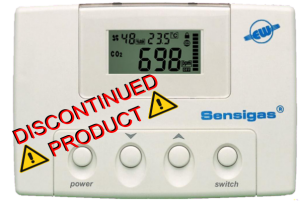 Wall-mounted CO2 detector with display of measurement and command relay. In IP40, self-extinguishing plastic enclosure. Measuring range:- 0÷20,000ppm (other ranges on request). Command outputs: one SPST 230V / 3A relay, alternatively 4÷20mA or 0÷10V output. Power supply: 230Vac – 115Vac – 24Vac/dc.
Output options: See Models.
Applications: detection of CO2 as an indication of the quality of ambient air in hotels, offices, exhibitions, shops, restaurants, schools, conference rooms, cinemas/theatres and ventilation systems in general. Detection of CO2 in areas such as greenhouses, stables and in livestock applications in general.