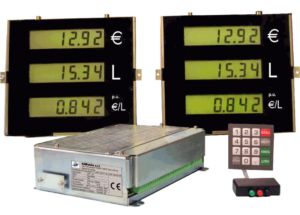 The EsiWelma TW1-B.M electronic computing heads for liquid methane have LNE-15272 rev.2 type examination certificate dated 26/08/2009 attesting to conformity with international directive OIML R117 (Metrological Instruments Directive) (liquid fuels).
In keeping with the aforesaid directive, the fuel flow meters can be supplied in two versions:
Standard version with electromechanical relay command output.
Non-sparking version with solid state relay command output, compliant with ATEX 2014/34/UE directive and with ATEX Ex nA IIC T4 X protection mode.
The display on the TW1-B.M electronic computing heads shows:
Price in local currency
Dispensed fuel in Kg
Unit price
Thanks to the ability to manage two mass flow meters, our computing heads can measure the gas quantity delivered during the pre-cooling phase of the tank, subtracting it from the total dispensing.
Auxiliary inputs for temperature and pressure measurements are also provided, and digital inputs for future deployments.
The electronic computing heads can be supplied with one display (one side application) or with two display (two side application).
The electronic computing heads include the preset function of both price and fuel dispensed; they also interface with a remote PC (host) to provide dispensing data conforming to the protocol in use.