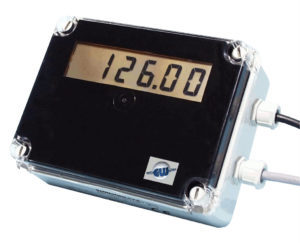 The TEW1-VM compact electronic computing head for liquid fuels (Gasoline, Diesel and LPG) is a single-product meter for one-sided or two-sided dispensers (using a second, optional display).
The meter can be connected to a supervision and monitoring system because it has disposition for the repetition of pulses from the encoder (pulser).
The pulse repetition already takes into account any calibration corrections.
The volume of fuel dispensed is shown on a 6-digit LCD display. The characters on that display are one inch (more than 25 mm) high, and their technical specifications are exactly the same as the ones for the high level electronic computing heads.
The Compact electronic computing head has recognised metric validity with N. AT-Lab-I17-048/0 Rev.0 certificate.